If you could only have one swimsuit, what would you choose? Charmo must choose the black swimsuit. A black swimsuit is like the little black dress of fashion. It is an essential part of every fashionable woman's closet.
As we all know, black has a visually shrinking effect. With the right cut, the one piece swimsuit or bikini can be a popular item that is very slimming and enhances your temperament.Do you feel overwhelmed and confused when choosing a swimsuit? Don't worry, you'll love these 7 black swimsuits that Charmo recommends.
Pay attention to the 
Heart-Shaped Halter Cross One Piece
. As the best seller in Charmo 2021, you can't miss this black one piece swimsuit. It has crisscross, mesh, and cutout elements. The swimsuit is not only elegant but also sexy. We believe you will fall in love with this elegant one piece swimsuit.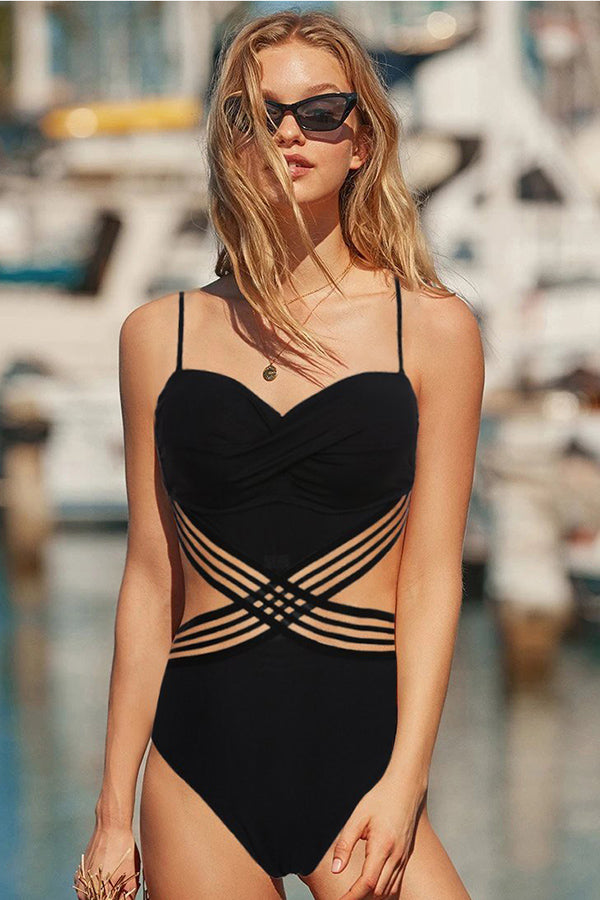 Backless Self Tie Belts One Piece
also might be a good choice. The most attractive feature of this swimsuit is that the position of the belt around the waist can be changed according to your mood. We look forward to getting more ways to wear it from you. This plunge black one piece swimsuit is simple and generous, perfect for girls who like minimalism.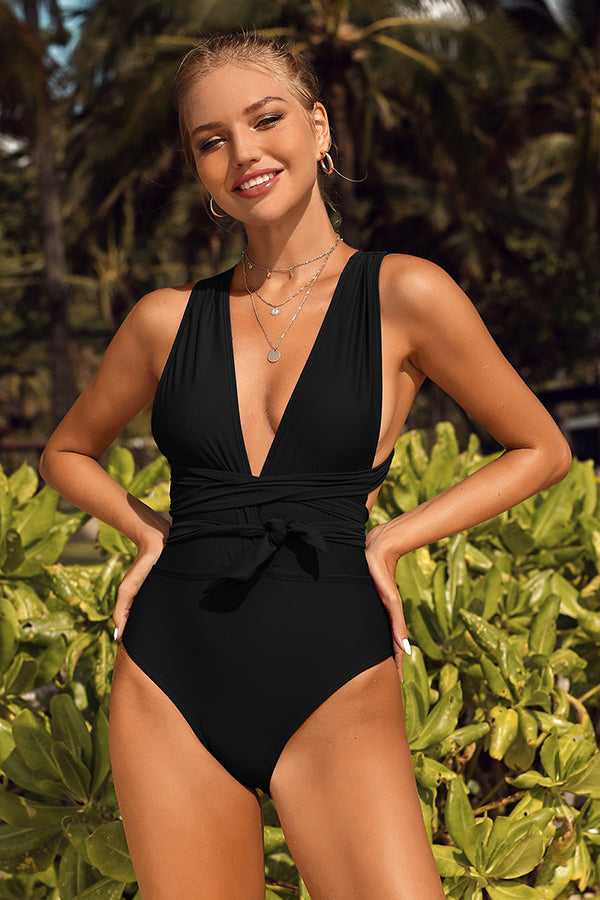 Maybe you will think that a pretty swimsuit must be sexy. But you can believe that less is more. Charmo's 
Crisscross Ruched Cut Out Backless One Piece
 is not. It is perfect balance of simplicity and elegance. The addition of ruffles at the waist provides a very nice finishing touch to an apple-shaped figure.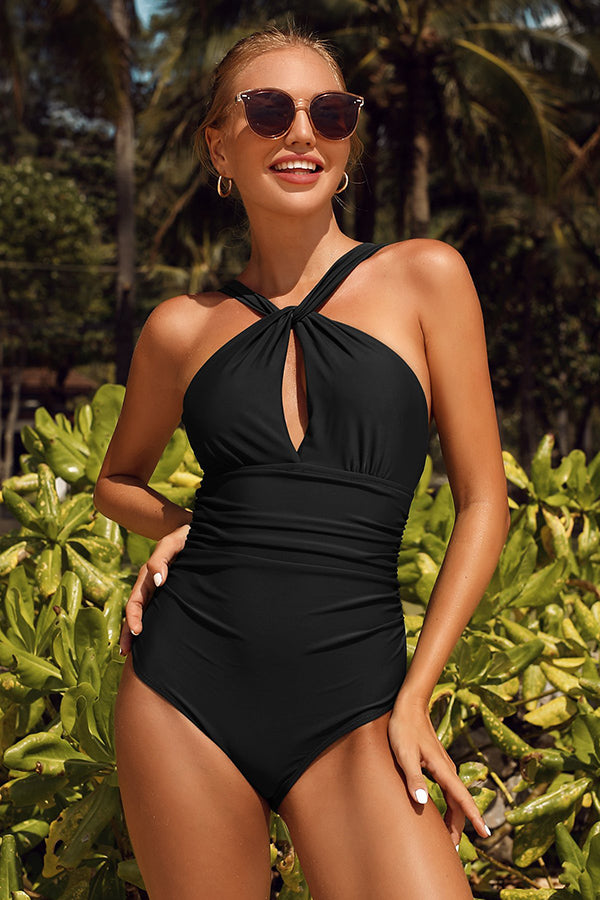 Who says black can't be cute? This 
Black Tie Shoulder Cut Out One Piece
 shows exactly this point. The bow tie adds a lot of girly feeling. The girls will love this black bow swimsuit.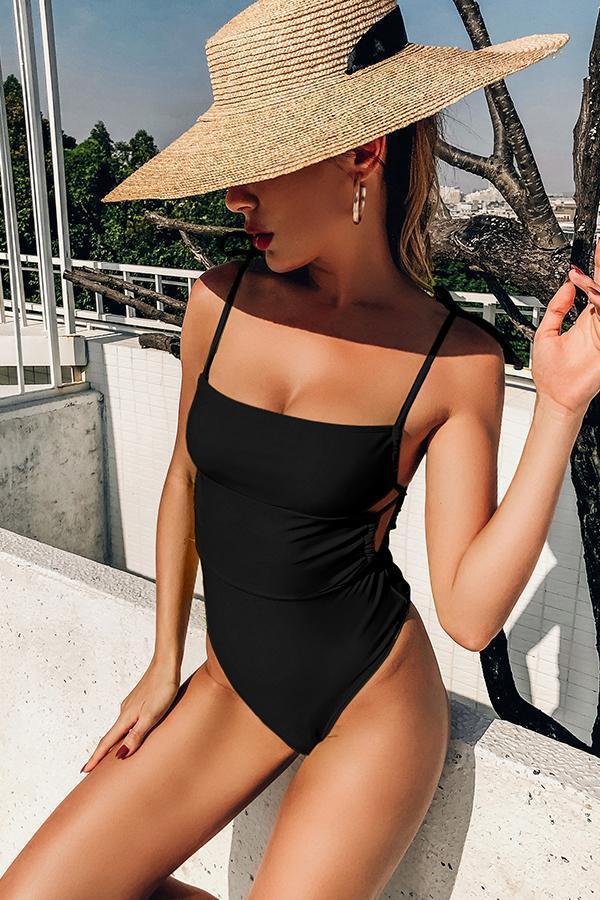 This 
Scoop Neck Ruffle Ribbed High Cut Bikini
 combines the two popular elements of black and ruffles. No girl can refuse this lovely combination, right? You can pair this ribbed bikini top with jeans or skirts to give this bikini unlimited possibilities.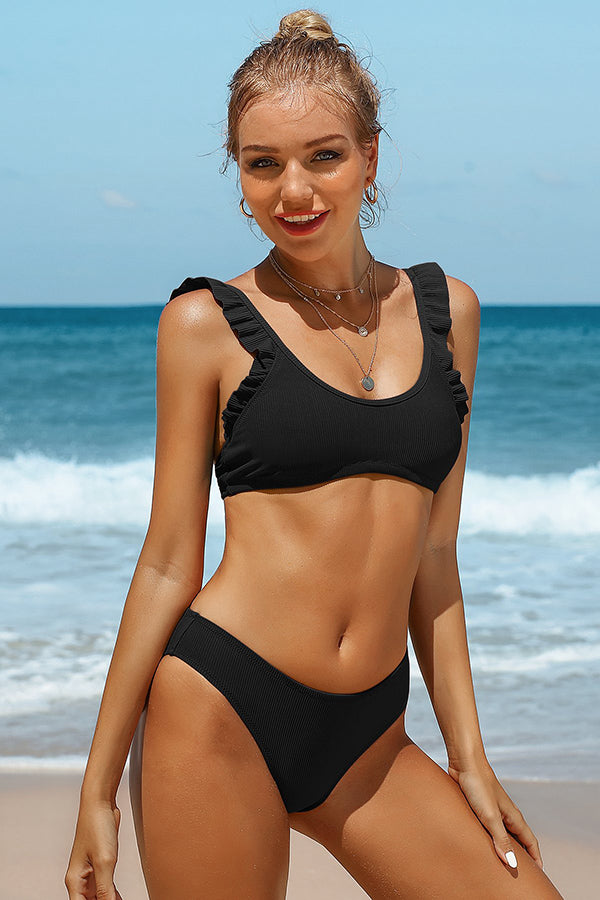 This 
Black Halter High Waist Striped Bikini
 is really sporty. Its black sporty bikini top is more wrapping than push up bikini top. If you want to try a bikini but don't want to be too sexy, this bikini will be just right for you. The mesh around the waist is the feature of this bikini. Without it, this bikini couldn't catch your eye and it is just an ordinary black swimsuit~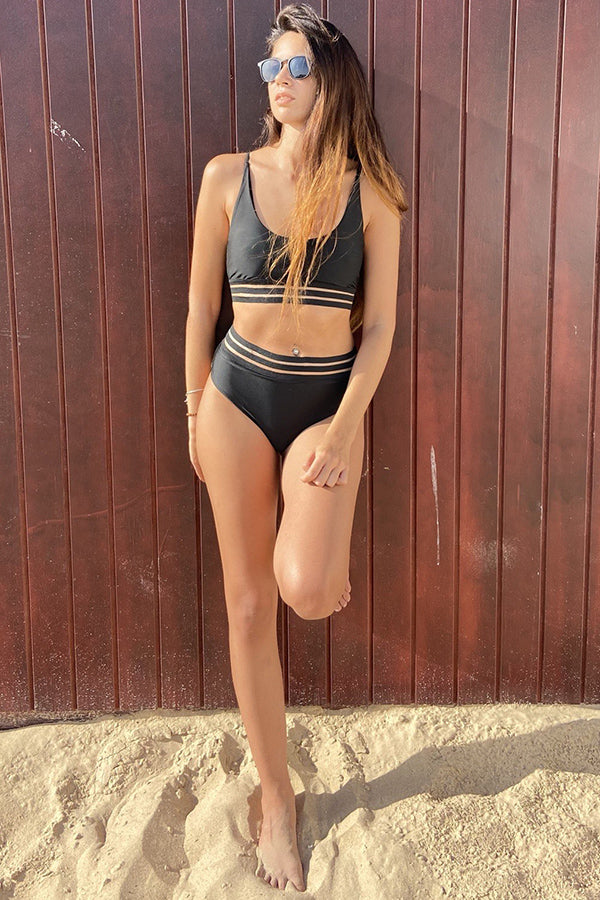 Ummm...Sometimes we need to add some colors to our boring lives.Just like the 
Tie Color Block Triangle Bikini
 adds green to the straps, this bikini immediately becomes vibrant. This colorblock bikini has a triangle top, which is suitable for full-figured girls who are sure to be the center of attention on the beach after wearing it.