We absolutely love colors. We beautify our rooms with it, look for the right lipstick shades, and wear our favorite swimwear or outfits. But did you guys know that not every color would look great on your skin tone?
Skin tone plays a much more important role than you think when it comes to wearing. If you have chosen the wrong color swimsuit according to your skin tone, your personality will look faded instead of standing out.
Don't fret; we are here to lend a hand to you in this matter. We have created a complete list of swimsuits that will go well with your skin tone. Read the full article and slay in your swimsuits.
1.
White Tone, Blue
The blue color goes well with a white tone as it will flatter your natural beauty. You can also go for dark shades as they will highlight color contrast, and you'll look gorgeous.
You should go for a contrasting color if you have a white tone. Even though black is always a good choice, it isn't the only choice. You won't deny blue and white makes a perfect combo, and a beautiful blue shade will enhance your natural beauty.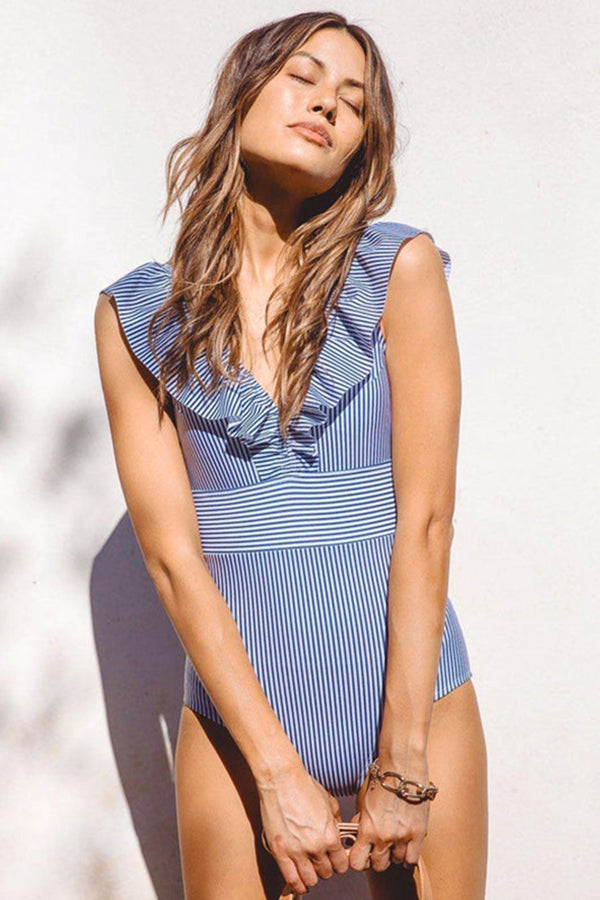 If you're looking for a striped one-piece swimsuit, this Blue Ruffled Stripe One Piece Swimsuit can be your best go-to solution. This classic one-piece swimwear has a V neckline with cute ruffles and superb detailing.
·
Blue Light Push Up Bikini
This swimsuit is a one-stop shop to show off your fuller cleavage. It exudes royal and rich vibes accentuating your curves and cleavage. It comes with a removable padded bra and is perfect for going out in summer.
This gorgeous blue push-up bikini has been made of 82% Polyester 18% Spandex. It has flexible straws, which are very flexible and easy to adjust. Flattering and comfortable, it could be your next swimsuit for having fun at the beach with friends.
2.
Fair Tone, Green And Orange
It can either be warm or cold if you've got a fair tone. If you're fairly toned, you're lucky as you can pull off any color. Opt for any shade of green, and there you go.
This ruched floral O ring tropical one-piece swimsuit is a must-have for hot summer. It's a simple swimsuit, yet it has a unique design; having an O ring at the waist makes it stand out from the crowd.
Its V-neck perfectly shows the beautiful bones flattering the figure and enhancing cleavage. Comfortable and chicer, this green and red swimsuit are a must-have to go out in hot summer.
3.
Light And Golden Skin, Pink And Brown
Matching colors don't do justice with skin. Girls with light and golden skin should opt for pink or brown colors. Stick with these colors to flatter your skin tone.
This pink bikini top looks very sexy and attractive. It has a pink flower decoration on the chest with having a halter neck. This swimwear is a perfect way to show off your curves in the most satisfying way.
This is a stunning piece; it has small details that bring it to the next level. It could be your next dress for going out on a date with a lover. We bet it would be a forgettable experience.
Do you love animal printed clothes? If yes, then this stunning piece should be in your wardrobe. Leopard print signifies confidence, independence, and sexuality.
This Plunge One Piece Swimsuit is a perfect combination of black & leopard print, making it even more elegant and sexier. In addition to that, its deep plunging neckline takes this dress to the next level.
4.
Dark Skin, Yellow And Red
Matching color with your skin is like a game of attraction between opposite poles. Dark-skinned people look best in any shade of yellow from soft yellow to rich yellow, don't forget to add a red one too.
Solid color swimsuits are trending even in 2022. This yellow one-piece swimsuit is a must-have in your wardrobe. Its side tie design hugs hips perfectly and shows off slender legs. Take this
swimsuits 
for your next beach adventure and have fun with your loved ones.
This red swimsuit one piece will have you looking fashion-forward all summer long. Its fabric will make you feel like you are swimming in your pajamas and still looking elegant. Its halter neck is exceptionally flattering and added ruched detail adds extra texture and makes this swimsuit a must-have. Red color can never be out of trend. It's a plus advantage as well.
Wrapping Up
Getting a bikini that rhymes with your natural body shape is pretty hard. Think about color. It'srathery exasperating. A perfect color for your skin tone is not hard and fast rule. But it is best to know which color suits you.
We've provided a quick guide for you to check out which color works for you and how different colors enhance your natural beauty. Once you're armed with your favorite bikini, no one can ever glow like you. Which one do you like? Let us know in the comment sections!