We are well aware of bikinis, but have you ever wondered to wear a swimsuit that is less revealing and exotic, both at the same time? Well, this refers to a Monokini. Now you must be wondering what a Monokini exactly is. Let's have a look!
What's a Monokini?
In 1964, a well-known Australian fashion designer, Rudi Gernreich introduced the Monokini. Initially, the Monokini swimsuit comprised of just a brief along with 2 straps covering the lower body and exposing the entire upper body. But gradually, the Monokini swimsuit evolved into multiple styles and the latest version now covers the upper body as well. It is designed like somewhere between a one-piece rash guard and a bikini. The front side of the body is covered but there are cutouts of a bikini shape at the back revealing your skin.
Monokinis are now available in multiple styles including color blocking prints, frills, or embellishments on them. They can be backless, full-sleeved, or whatever styles you may desire. You can simply wear them on a beach vacation or pool party, or pair them with some cool outfit for an outing or something. Regardless of your age, color, or size, Monokinis look best on everybody making their holiday memorable.
Moreover, many people don't get the difference between Monokinis and Bikinis. It's quite simple! Bikinis are two-piece swimsuits that expose your skin more as compared to a Monokini, as Monokinis are one-piece swimsuits, just with a back with cutouts. So now, you can look as sexy as someone wearing a bikini, but in a more covered way. Not only does it complements your body according to the modern fashion trends, but looks super classy as well.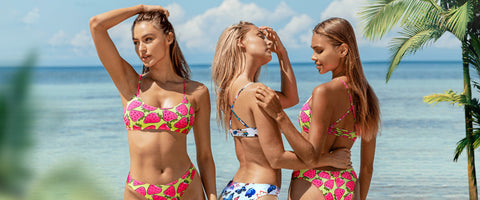 Types of Monokini:
Some of you must be worried about wearing a Monokini on a holiday, thinking that it might suit your body or not. Well, you don't have to worry now because there are several types of Monokinis, each one specifically designed to complement a body type. Exciting isn't it? You bet! Not everyone is tall or thin, some are bulky, and some are short. If you want to know which Monokini will look best on you, you need to have a look at these Monokini choices.
1.    Halter Monokini:
Halter Monokini is a type of swimwear whose straps don't go on the shoulders instead; they are crossed around the neck towards the back of the swimsuit. This way, your swimsuit can be backless showing your sexy skin from behind, or it can have straps on the back like a normal swimsuit as well.
2.    Plunge Monokini:
If you want to look quite an exotic showing off your cleavage, plunge Monokini is the best thing you can wear. It has a deep V neck cut which reveals most of your bust and makes you look hot yet classy. 
3.    One Shoulder Monokini:
The One-Shoulder Monokini, as the name refers, comprises one shoulder, and nothing on the other side. Now, the sleeves could be full or just a string, but the other side has no fabric revealing the shoulder and giving your outfit a unique look.
4.    Ruffled Monokini:
The ruffled monokini is a swimsuit that has frills on its necklines adding a bit more style to it. Originally, this type of monokini was designed for women with small busts, so they can carry the swimsuit with confidence. The midsection of the swimsuit looks quite exquisite due to the frills. 
5.    Mesh monokini:
Whether you want a sunbath on the beach or to swim in the sea, the mesh monokini is the right choice. The lightweight texture and unique designs make it versatile so, it is suitable for all the women out there.
How to choose a Monokini?
We know that Monokini comes in several designs and types, but it's important to choose the right one according to your body to make it look the best on you. Now, the question arises that how to choose the right Monokini for yourself. Well, Monokinis look perfect and flawless on an hourglass figure, but women with other body figures can wear them as well. Here, we are going to tell the most suitable monokini types according to the body figure.
Full bust: Women having a full bust can flaunt it wearing V necks and halter neck monokinis. Even if you have a bold body, these monokinis will look best on you rather than the others.
Smaller bust: If you are skinny, and have a small bust, a ruffled upper half will look great on you. It will complement your body like no other.